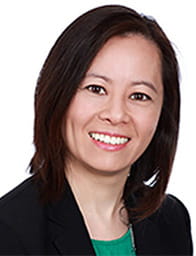 Debbie Wong, CPA, CA, CRPC®
Vice President, Tax Consulting, Private Client Group, Raymond James Ltd.
Debbie joined the investment services business after deciding to focus her time on helping people with their tax concerns through value-added services rather than through a fee-for service model utilized in public practice.
As part of our team of private wealth professionals, Debbie works with our financial advisors to guide their high net worth clients towards practical solutions to their tax issues. She has expertise in Canadian and U.S. personal tax, specific issues affecting U.S. citizens or Green Card holders, and cross-border tax (immigration and emigration). Debbie joined Raymond James in 2004 as the Tax Manager in Operations and then transferred to Private Client Solutions in 2013.
Prior to joining Raymond James, Debbie gained ten years of experience working in public practice as an expatriate tax manager at a major international accounting firm and articled at an accounting firm handling financial reporting and tax compliance for small business families. Debbie obtained her chartered accountancy designation (CA, CPA) in 1998. She also earned the U.S. Chartered Retirement Planning Counselor designation (CRPC®) in 2018 to expand her perspective on the unique planning needs of our cross-border clients.
In her free time, she enjoys relaxing and travelling with her husband, and taking a particular interest in nutrition and fitness methods to age backwards.
Greg Jizmejian, CFP®, CLU, CH.F.C., TEP, EPC
Estate Planning Advisor, Raymond James Financial Planning Ltd.
Greg is a Certified Financial Planner (CFP®), Chartered Life Underwriter (CLU), and Chartered Financial Consultant (CH.F.C). Most recently, in 2017 he completed the Elder Planning Counselor program (EPC) and also achieved the Trust & Estate Practitioner designation (TEP).
Since 1985, Greg has been helping families protect the people and values they cherish most. In 2019, after 17 successful years as vice president, estate and insurance advisor at a bank owned investment firm, he joined Raymond James as their estate planning advisor for the GTA.
For more than 15 years, Greg has been an ardent supporter of JDRF. The fundraising team he founded, No More Pricks, has raised $100,000 and counting. In 2007, Greg began an annual fundraising bike ride from Toronto to Niagara, and he currently serves on the Toronto JDRF ride cabinet. A graduate in fine arts from the University of Toronto, Greg is a regular contributor to stage designs for performances in his church, and has a modest collection of paintings from his travels to Bali, Russia, Italy, Cuba, Armenia and India.
Trevor R. Parry M.A., LL.B, LL.M (Tax). TEP
Senior Estate Planning Advisor
Trevor holds an undergraduate degree in History from Trinity College at the University of Toronto, a Master's Degree in History from the University of Toronto, a Bachelor of Laws degree from Queen's University and a Master of Laws in Taxation from Osgoode Hall. Trevor's insights have been published in periodicals, journals, and newspapers across Canada and he has provided professional commentary for the Business News Network, among other media outlets. He also speaks regularly across the country for organizations such as STEP and Advocis. Trevor is a member of the Society of Trust and Estate Practitioners, the Canadian Tax Foundation, the Albany Club, and the Royal Canadian Military Institute. He is an Associate Member of CALU and is a member in good standing of the Law Society of Upper Canada, having been called to the Ontario Bar in 1996.