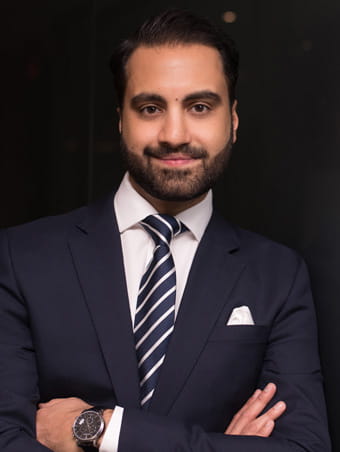 Michael
Dehal,
MBA, CPA, CMA, CIM®
Senior Portfolio Manager, Private Client Group
With a calm demeanor and purposeful approach, Michael applies his more than 20 years of industry experience in guiding clients toward meaningful goals. His disciplined investment philosophy and unshakeable commitment to his clients define his independent practice. He specializes in discretionary portfolio management for families and individuals, cross-border wealth management as well as institutional cash management.
"My team offers clients excellent service – responsive and tailored to their needs," he says. "I care deeply about my clients, taking the time to explain complex topics and stay in sync with their lives through regular communication."
Michael's passion for finance and studying the markets began at 16, when he bought his first stock. He began his career as a commodities trader and has held various roles, including senior positions at global investment banks, accounting firms and private sector companies.
His distinct background informs his comprehensive approach to managing wealth, which includes financial and retirement planning, estate planning, insurance, investment management and tax strategies. As a portfolio manager, Michael takes an active approach to portfolio management and focuses on risk-adjusted returns. He also works closely with CFOs and treasurers of public companies, private corporations, governments and charitable organizations in helping them maximize their rates on cash deposits.
In continually seeking new insight, Michael has accumulated several designations, degrees and licenses. He holds a Bachelor of Commerce (B.COM) degree from McMaster University; a Master of Business Administration (MBA) degree from Queen's University; a Chartered Professional Accountant (CPA) designation; a Certified Management Accountant (CMA) designation; and a Chartered Investment Manager (CIM®) designation. He holds Series 7 and 66 licenses, enabling his team to serve U.S. residents as well as Canadians with IRAs with cross-border services.
Giving back is a priority for Michael, and his charitable work has gained him recognition. In 2020, he won the Wealth Professional Award for Excellence in Philanthropy and Community Service, in part for his role as chief executive officer of the Cleft Prevention International Foundation, an organization aimed at educating women and families around the world to decrease the prevalence of cleft lip and palate anomalies. Having been born with a cleft lip and palate, this cause is near to his heart. He also serves on the family services committee at the American Cleft Palate-Craniofacial Association to help provide resources and support to children and families affected by cleft and craniofacial conditions. A frequent traveler to India, he also supports several orphanages in the country and is passionate about helping children and people with disabilities.
Michael lives in Ancaster, Ontario, where he enjoys running on its many beautiful trails. He is also a practitioner of mindfulness meditation.
The Chartered Investment Manager® (CIM®) Designation builds the skills and experience we need to serve a more sophisticated financial client or institution. Financial professionals who hold the CIM® designation are eligible for registration as a Portfolio Manager in Canada. They have expertise in providing money management services to high-net-worth and institutional clients, and they understand the application of portfolio management in the context of Canadian markets and regulatory requirements
What do these designations mean for you? They mean that when you work with an investment consultant who has taken the time to complete these designations, you're working with someone who is well-versed in modern concepts of investment advice, is educated enough to understand how your individual investments are being managed and how they work together – no matter how complex it may be. These skills, along with a commitment to advanced education, enable them to provide you with the kind of service that you not only want, but deserve.